☆Writer: Richard K. Moe
This Season does not look so promising for Anime. The Fall Stream looks like there's not much good Anime swimming around. Not many series are convincing me this Season. Well full series that is. But luckily I do have some choice's for this dry Season of Anime. They look promising to me. Some are new to me and some are very familiar to me. I'm sure there's going to be a couple of series that i'll overlook this Season and people will be like "BLAH BLAH WAS SO GUD! YOU MISSED IT"! We'll see about that. I'm curious on what will steal the views of everyone this Season! But for now, let me steal your view!
Richard K. Moe's Anime List of Fall 2015
Number 9: Teekyuu (Season 6) "Here We Go Again"!
Story: Four high school girls belong to a tennis club. Although the amount of tennis they play is questionable. They do things at their own pace whether that be slow, fast, crazy, or eccentric. The girls add even more odd balls to their group of crazies. Will they ever play tennis?!
Teekyuu again?! SEASON 6?! WHY?!
♥ It's still fun to watch them be hella silly!
♥ It gets dry but then there's always something that cracks me up to death!
♥ I feel some sort of attachment with this show. After all i've been with them for five seasons. Why stop now?!
♥ It only takes like a minute to watch. So might as well.  
Number 8: Komori-san wa Kotowarenai! "Oooh Komori, Please Be Cute"!
Story: Syuri Komori is a 14-year-old girl, who is so nice that she cannot turn down people's request. She gains amazing abilities while she fulfills people's request. Her two friends Megumi Nishitori and Masako Negishi try to help Komori be a bit more selfish than selfless. These Middle schoolers do there best to have fun and be helpful. 
Why this show?! You sure?! Yes! But it's hella short! NO!
★ Read the Manga before hand and I like it a ton!
★ It's looks even cuter now that it's animated.
★ Unfortunately it's only like two minutes long. So, it's not a hassle to watch. BUT! WHY IS IT SO SHORT?! EEEEEE PHU PHE PHEN! That's my cry I believe. 
Number 7: Miss Monochrome (Season 3) "My Broke Pop Robot Idol"!
Story: Miss Monochrome is a cyborg who wishes to be a great Idol like Kikuko, a popular idol. But she is broke, she lost her fortune from a so called friend named Mana. Although poor, Maneo, a manager of a mini mart helps her on her journey on being an idol. Being poor cannot stop Miss Monochrome from trying to be an idol. She keeps fighting and trying to be a top idol and meets some new friends on her quest. 
Miss Monochrome, eh? Tell me why another short Anime. 
★ Miss Monochrome is such a lovable character! And everyone else!
★ I love watching the show slowly progress! It's comfortable.
★ I wanna see if Miss Monochrome will become a top idol!
Number 6: Hacka Doll "What the Hacka is a Hacka Doll"?!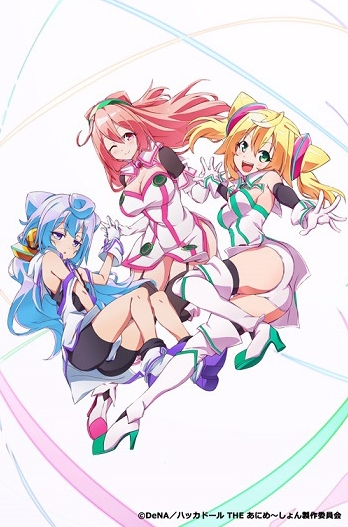 Story: The Hacka Doll app delivers a customized feed of news for each user depending on what they look at and choices they make on questions. The Anime personifies the app's customization engine as three "Hacka Dolls" — the personal entertainment AI and main navigator Hacka Doll #1, the anime expert Hacka Doll #2, and the knowledgeable otaku Hacka Doll #3.
What the Hacka dude? You sure?
★ It's all girls I see, so I want to see. 
★ It sounds a bit interesting and i'm curious. So full speed ahead!
★ Kinda going at this blindly to be honest. But the characters look very cute! And it's ten minutes each! Yay! Not five minutes!
Number 5: Anitore! EX "Five Different Girls?! And 

Exercising

?! What?!
Story: Five different girls are aiming to become idols. As they try to become idols they also focus on exercising. The exercises they do are push-ups, sit ups, dance, yoga, stretching, tai chi, and more.
You sure are picking lots of short shows Richard. I ask again. Why?
♥ Oooh! Look at the character designs. Cuties!
♥ That plot is a little different. I want to see what it can do!
♥ All girls? Check! Moe? Check! You like em? Check!
Number 4: One Punch Man  "Is It Gonna Be A Knock Out"?
Story: One-Punch Man is a super hero who has trained so hard that his hair has fallen out, and who can overcome any enemy with one punch. However, because he is so strong, he has become bored and frustrated with winning all his battles so easily. (Source: ANN)
Oh! Finally a full length show! Also multi-gender?! Tell me why!

★ I watch a multi-gender cast Anime every once in a while.
★ Looks like it's gonna be pretty interesting!
★ One Punch?! Let's see if it can knock me out this Season!
Number 3: Magical Suite Prism Nana "MAGICAL GIRLS?! SHAFT"?!
Story: In a future not too distant from ours, Nanagoo City is a beautiful city in Japan surrounded by mountains and ocean-sides. The sensitive, adolescent girls who live there are each opening up doors to their own, unique possibilities. No one wants to forget the path they take to adulthood. (Source: ANN)
This series comes out in November and is a OVA?! Why?!
★ THREE YEARS SINCE THE ANNOUNCEMENT! I GOTTA SEE IT!
★ LOOK AT THOSE CUTE CHARACTER DESIGNS! CUTE! AHHHHHH!
★ SHAFT IS SO CREATIVE WHEN THEY ANIMATE SERIES! SO COLORFUL!
★ THE STORY SOUNDS INTERESTING ENOUGH! IT EXCITES ME! MOE GIRLS!
Number 2: Is the Order a Rabbit? (Season 2) "Finally! My Order is Here"!
Story: Cocoa is still living and working at cafe Rabbit House with her friends Chino and Rize. Chiya and Syaro also are still around and giving them a hand when they need one. They continue to work and discover even more about each other and the people around them. What new memories await them? What new recipes will be discovered for the cafes?
I saw this one coming. I knew it. Do I even have to ask why?
♥ I AM READY TO FALL IN LOVE ONCE AGAIN! FALL EVEN MORE IN LOVE! NEW MEMORIES TO BE MADE!
♥ I'VE BEEN WAITING TOO LONG FOR THE RETURN OF ONE OF MY FAVORITE MOE'S!
♥ THE CAST IS BACK AND SO I AM! I LOVE THEM ALL!
♥ I'M READY TO LAUGH AGAIN AND FEEL THE PRECIOUS MOMENTS!
Number 1: Valkyrie Drive (Mermaid) "Oh, Hell Yes. Drive a Valkyrie to me"!
Story: In a world where five artificial islands exists, Mamori is a "mermaid" transferred to one of those islands. When Mamori is attacked, a newly transferred girl named Mirei saves her. The enemy doesn't stop, however, and the two are soon cornered. Just when they think all hope is lost, Mirei kisses Mamori, and Mamori turns into a sword. Mirei then wields the sword and launches a counterattack against their enemies. (Source: ANN)
A ECCHI BRO?! A FAN SERVICE SHOW?! WHY?! IS IT BECAUSE….
♥ I'VE BEEN SO HYPED FOR THIS! BEEN FOLLOWING IT SINCE IT THE ANNOUNCEMENT! 
♥ THE ANIMATION IS JUST "WOW"! LOOKS EXPENSIVE!
♥ THE STORY SEEMS INTERESTING ENOUGH! THIS ECCHI GOT A STORY!
♥ REALLY DIGGING THE CHARACTER DESIGNS! MMM! MMM! YEAH, BABY! SEXY! OOOHHH MAMA! 
♥ I'M PUTTING ALL MY BETS ON THAT THIS WILL BE GOOD! I HOPE I'M RIGHT! ALL CHIPS ARE DOWN!
Final Comments

:
Sorry. I lost my composure back there on "Valkyrie Drive". I just been so hyped for it! You can see why it's number one! Next to that is "Is the Order a Rabbit"! My love is returning to me! I'm ready for my love! "Magical Suite Prism Nana" looks very exciting! SHAFT don't fail me now! So, you can see that my choices of this Season consist of one OVA show, five short shows and three full shows. Also, mainly shows with only girls. Yeah, I love shows with just girls! Not so bad, right?! I may watch more but these are the ones i'm 

definitely

 going to watch! Now looking at my least, it looks like this Season won't be as dry as I though!

 What are you going to watch this Season? Tell me! I wanna know! Don't be scared! I won't be 

judgmental

! I gave you honesty, now give me some! Thanks for reading if you did! Enjoy the Season! -Richard K. Moe
(Oh, one more thing. All Gif's are not mine. I did not create them. Click Gif or text under Gif for source.)