☆Writer: Richard K. Moe
Story:
 A group of rookie idols are recruited by a company by the name of 346 Production's which has started the "Cinderella Project". Some girls have always dreamed of being an idol while some just let it happen. These 14 girls are broken down into different groups and make their debut into the idol world. These girls learn from each other and learn about themselves while walking on the road of being an idol. With all their heart and passion they move into the world of idols. What magic will they discover on this path they take? 
Behind the Anime:
☆Animation Production – A-1 Pictures (Oreimo, Sword Art Online, Working, Persona 4, Your Lie in April, Fairy Tail)
☆Director – Noriko Takao (iDOLM@STER, K-ON, Lucky Star)
☆Writer – Noriko Takao (iDOLM@STER) & Tatsuya Takahashi (Kirino Mosaic, iDOLM@STER, Locodol, The Eden of Grisaia)
☆Character Design – Yuusuke Matsuo (Yama no Susume, Black Rock Shooter) 
Review
Pros +



Writing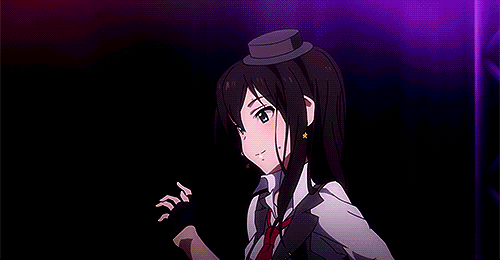 Characters are very likable and lovable from the start of the show. ♥♥♥♥♥
Although a huge cast, I was able to get to know the girls. ♥♥♥♥♥
Episodes given to certain characters were played out right. ♥♥♥♥♥
You can feel the tension, the pressure, the sadness, and the happiness. ♥♥♥♥♥
Very good pacing! Not too fast or too slow! ♥♥♥♥♥
Story is well written! The happy times, the sad times, the twist and turns were convincing. ♥♥♥♥♥
Directing
Impressive camera angels and shots. ♥♥♥♥♥

Very good pacing! Not too fast or too slow! Director gets credit too. ♥♥♥♥♥
Animation
         sequences! 
         JUST
         AMAZING! ♥♥♥♥♥
         when characters
         move around
         or do
         facial expressions. ♥♥♥♥♥
Cons –



Animation



         is mainly stellar
         it slips a
         couple of times. xxxxx
         still frames
         during
         many scenes. xxxxx
Score:
♥ 9.6/10 ♥ I didn't like it. I loved it! 
Final Comments: I didn't think i'd like Cinderella Girls so much! I thought it was just going to be okay. But wow! It's better than okay! It's magically! The Cinderella Girls have a magically spell on me now. The first episode it was put onto me. Then the more progression I made with the show, the magically spell got even more severe! Now the spell won't wear off and I don't care! What amazing story telling, character progression, and animation! Although the animation slips a little and they use still frames a bit too much. This show is wonderful and magically! This is a "must watch" for idol lovers! For Anime lovers! The characters are all lovable! The emotions that they tried to convey were felt! The performance sequences were beautiful! This show will cast it's spell onto you! It's telling me to go to Season 2 now. I can't fight it! THE MAGIC IS TOO STRONG! – Richard K. Moe
Check out the P.V. down below! Let the magic spell from the Cinderella Girls reach you!
All Gif's are not mine. They are the creator of the Gif's. Click text under Gif for link to source. -Richard K. Moe